Nearly Canadian
Hot damn, cold water, cold shower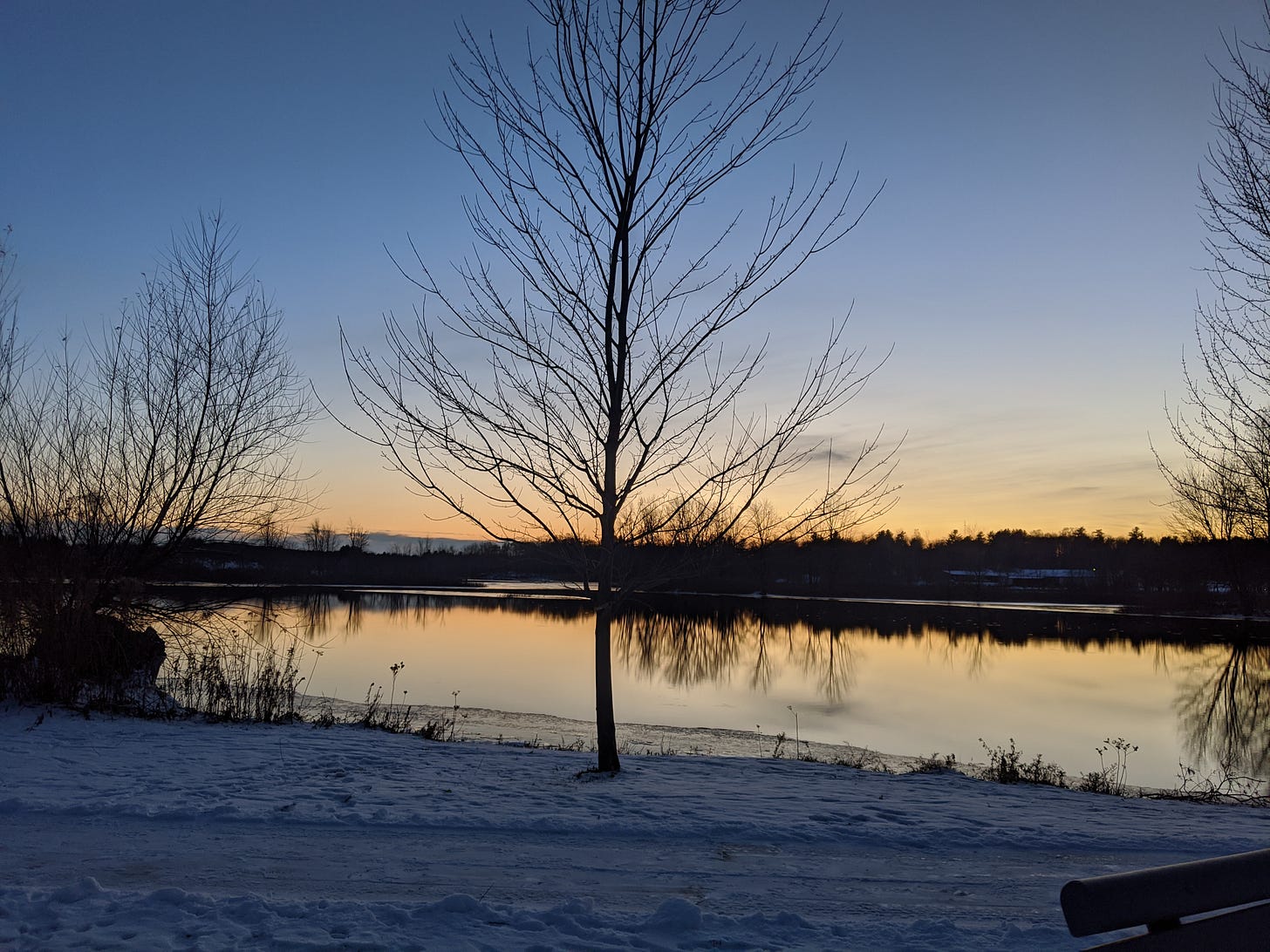 Happy New Year! No use burying the lede, so I'll start by saying that I am gainfully employed again some 2,000 miles to the east in the beautiful North Country region of New York.
I'll be reporting for North Country Public Radio starting next week and have already begun amassing the kind of wardrobe early explorers of the Saint Lawrence valley used as their wooden ships navigated chunky ice blocks occluding their journey to Quebec.
The picture above is of the Raquette River, the third longest in New York. It flows through the village of Potsdam and north into the Saint Lawrence river, the icy vein dividing the U.S. from Canada. It's a very rural area. About two hours from Montreal, three hours from Burlington and six to NYC. The closest airport is Ottawa! I say this by way of explaining that while I don't expect many visitors, there's a lot to see and enjoy in this part of the country that I am very much looking forward to.
I have lived in West Africa, D.C., the Southeast, the Intermountain West and now The North. This region isn't quite New England technically, nor is it Canada, nor what people consider the "upstate" in Hudson Valley. It's got a unique footprint and culture, the vast Adirondacks, a flat population, low cost of living and lots of hockey.
I will miss Utah and the West. I've said this before, but pursuing journalism has meant uprooting my life more times than I care to count. Moving books always sucks. This will be, probably, my tenth move and sixth state since graduating college a decade ago. It takes a lot to re-establish routines, find a dentist, make new friends, find the closest IKEA (again, Ottawa). I spent a lot longer hanging around Salt Lake in 2019, working on Bread Riot and part-timing at a high school, because I wasn't sure I was ready to do this all again.
One quality of this career that I keep coming back to, though, is my ability to be surprised. I thought I was addicted to the novelty of the work, tackling a different story every day, but even that can become tiresome. What I really love is when people, places and things surprise me. And what surprised me most about my visit to NCPR was how much they love doing the kind of radio I dreamed about in high school. The get-out-of-the-office-more mentality, the everyone-pitches-in camaraderie, the cultivate-interests-outside-of-work-to-combat-burnout ethos. Heck, my new boss even helped reopen a dive bar in an abandoned motel/diner that the other staffers go to. There's a reason I told my friends I'm moving to the set of Schitt's Creek.
For these reasons, I am happy to hang up my political hat in 2020. It's going to be an exhausting mosh pit of a campaign and if I can still do radio and tell some good stories that surprise and delight those listening, that will be goal enough for me.
Utah Readers (most of you!)
I like doing this little newsletter, but since there are subscribers expecting a quick hit of Utah political content, I want to let you know it's okay to hit unsubscribe if you are not interested in dispatches from Arendelle. Best of luck and happy 45 Days to those working the legislative session.