Downtime
It's a down time
It's the most mundane shit that gets me really down these days. Usually it involves thinking about something I was planning on doing pre-pandemic and realizing that there is no universe in which those plans can still happen.
Example: I moved half my IKEA dishes with me to New York, leaving the other half with my ex, reasoning that I'd be able to restock at the Ottawa IKEA once I got here. It made sense because they're cheap dishes and could easily break in a cross-country move. Leaving half behind was a nice gesture toward my ex, who generously helped me move, and gave me one less thing to pack.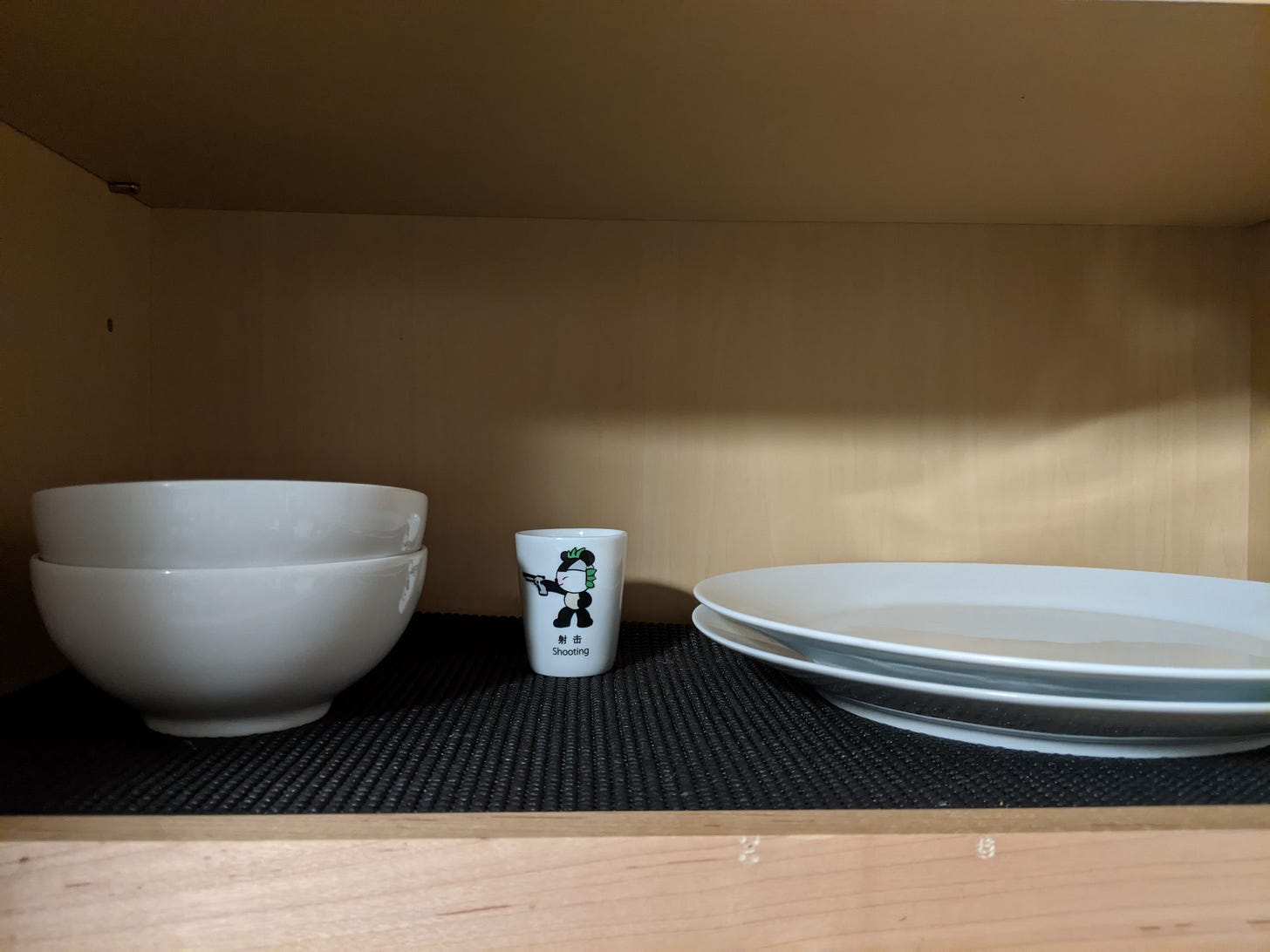 The week I was planning a trip to Ottawa to repopulate my dishes was the week the border closed down, around March 21, I believe. I guess I could just go to the Walmart here for some white plates, but I'm a firm believer that buying plates should be a happy occasion, not a bleak one. I went to Walmart to get some tick spray over the summer, and I've never wanted to leave a place so fast. And it wasn't just the people with masks dangling under their chins. I overheard one of the associates saying he'd just sold $600 in video games to a person using their stimulus check. I wish I had thought to do that.
Regardless, I could not let the dream of matching IKEA plates go. This was probably related to the dream of the border reopening, granting me access to other pre-pandemic pleasures like dining, live music and an airport under two hours away.
Opening my cabinets now is a sad reminder of how I came to have, at the tender age of 34, just two plates, two bowls and two matching water glasses. Victim!
I kid, but only a little. It's these constant, small, annoying interruptions to life that add up to one giant disappointment of a year. It's not just that you can't do the thing you wanted to do, but realizing it was not all that important in the first place. Who's coming over for dinner anyway? There are now much MORE important things to think about. For example, voting like your life depends on it. (I wrote a one-off about my own upbringing in a non-voting household.)
Every time I am ready to erupt in a fit of rage about the let down of 2020, I snap back to the reality that at least I am healthy, employed and, as of Oct. 16, COVID-free.
But I'd also be crazy not to use this year, and its ample downtime, to take stock of my life and career and re-evaluate things that could use modification or improvement: my mental health, my financial goals, my love life, to name a few.
To that end, I am wide open for conversations on strategies you're employing to get through the rest of this year. I spend virtually every waking minute as a recluse in my house in this rural outpost in America. I would love to reconnect with more people in 2021 whenever the country starts collectively crawling out of its hibernation cave, emaciated, cold and hungry.
If, like me, you find yourself with a lot of downtime, drop me a line: julialoren@gmail.com.
Pick your sides
There's a new season of Drilled! In its fifth season, Amy carefully walks through a years-long court case involving native Ecuadorians, Chevron and a New York attorney named Steven Donziger, who's currently under house arrest. It's wild.

Talk about closure. The last episode of American Public Media's second season of "In The Dark" finds a freed Curtis Flowers talking to journalist Madeleine Baran about his life outside of prison. Flowers was tried six times for the same crime in Mississippi, by the same prosecutor, and spent two decades on death row. Listen to the entire second season for Baran's surgical deconstruction of the flawed case against Flowers, including tracking down an alternative suspect, which helped lead to his release.

Here is a hippo eating a watermelon.
I have been baking a lot more and should share a recipe with this list soon.